Issue:
1. You have purchased a new computer and wish to use HDM-4 on this computer
2. HDM-4 is currently licenced on your desktop computer, but you wish to use the licence on your laptop 
3. A person in the organisation is leaving the company and the HDM-4 licence will be used by another person
Solution :
In all the situations above it is possible for you to use the "Licence Transfer" feature built into the licence management of HDM-4. This procedure replaces the need to have multiple activations for a single licence, as the user is now able to move the licence to a PC of their choice.
To do this follow the instructions below:
1. Install the product on the target machine (i.e., the machine on which you now wish to use the software)
2. Run the product on the target machine and record the registration code.
3. Run HDM-4 Version 2 on the original machine. On the Help menu click on Licence Registration as shown below.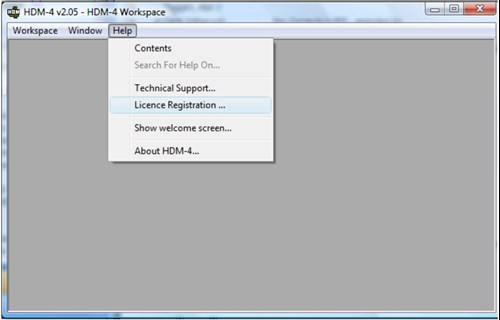 You will be presented with a transfer screen similar to the one shown below: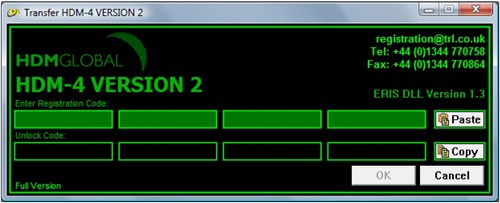 NOTE: If require Admin rights to carry out this procedure. If it is detected that you do not have admin rights the following will be shown: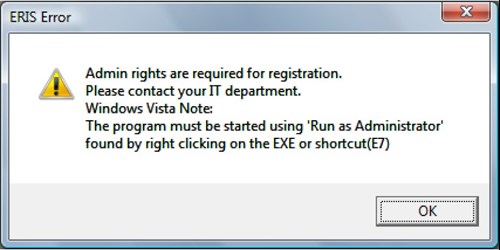 4.  Enter the registration code of the target machine into the registration code boxes on the original machine and press "OK ".
An unlock code will now be generated for the target machine. The screen will change to one similar to the one shown below: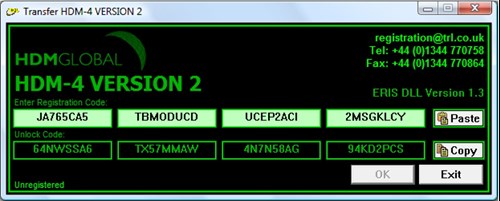 5. Copy the unlock code from this window and type (or paste) it into the empty unlock code boxes on the target machine. As each eight-digit block is entered the block will be highlighted to indicate it is valid.
6. After entering the unlock code press the "OK " button. Unless indicated otherwise the product should now be registered on the target machine.
This procedure is also described in the HDM-4 Version 2 Installation Guide.
Please note that you will now be unable to use the product on the original machine unless the licence is transferred back again.